5 décembre 2011
1
05
/

12
/

décembre
/

2011
16:33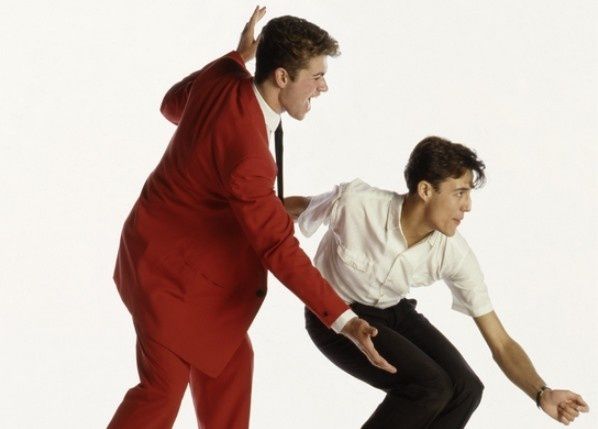 It's been 25 years since George Michael and Andrew Ridgely left their Wham! career behind on a high. To celebrate (commiserate?) they released 'The Final', a compilation album that documented their short, but amazingly successful career in pop. Now, 25 years later, to celebrate the Anniversary, 'The Final' is being re-released to remind everyone exactly what Wham! brought to the music industry – and I don't mean Andrew's "air" guitar skills.
Anyone familiar with Wham! will know the track listing and lyrics like the back of their hand, and will need no introduction to the sound of the band. We've all danced to at least one Wham! song on a night out and this album brings the best of them together. Six No.1 singles, even including George Michael's two solo singles that made appearances on Wham!'s albums.
The first track on 'The Final' is 'Wham! Rap!', first released in 1982, but not a hit until its re-release in January 1983. Not their best song, and I'm sure they'd agree themselves, but George Michael rapping? Who'd pass that up! Wham!'s first hit, 'Young Guns (Go For It!) is next, and reached No. 3 in the charts in late 1982. 'Bad Boys', a song George Michael went on record to say he "hated" was Wham!'s biggest hit from their debut album, and reached No. 2 in May 1983. The fourth and final single from the debut was 'Club Tropicana' which reached No. 4 in the summer of 1983. Probably one of the most recognisable Wham! songs, it's one you can't deny moving or singing along to.
The next song on 'The Final' was Wham!'s first number one, and the first single from their second album. 'Wake Me Up Before You Go Go' is Wham! personified and was a classic pop song of the 80's. 'Careless Whisper' was George Michael's first solo single on Wham!'s second album, although was released in the US as Wham! featuring George Michael. A transatlantic No. 1 and a song George is still known for today. For the second album's third No. 1 in a row, 'Freedom' made it to the top spot in 1984.

Appropriately for this time of year, 'Last Christmas' is up next. This song topped off a hugely successful 1984 for Wham! and was only kept off the UK Christmas No. 1 spot by Band Aid. 'Last Christmas' sold over a million copies and is the biggest selling single in the UK not to get to number one! A remix of 'Everything She Wants' has an outing next, and was apparently George Michael's favourite song from the Wham! era. 'I'm Your Man' was another No. 1 single, and reached the top of the charts in late 1985.
Another George Michael solo single made an appearance on a Wham! album. 'A Different Corner' reached No. 1 in April 1986, and is still a gorgeous song today. Two new songs emerged on 'The Final' – 'Battlestations' showed an indication of the direction George would take his career post-Wham!, and 'Where Did Your Heart Go?' was a solid cover of the Was (Not Was) song. Fittingly, the final song on the album was Wham!'s final single, 'The Edge Of Heaven'- a nod to earlier Wham! classics and their last ever No.1.

So there you have it, a compilation of songs that have stood the test of time, by a band who WERE the 80's. Yes, Wham! were cheesy, but weren't most things in the 80's? The fact of the matter is, the band made and released great pop songs that are STILL played and recognised today – and that's the sign of a great band. Buy this album to reminisce, re-discover old classics, and have the opportunity at this time of year, to listen to 'Last Christmas' guilt free – "because it's nostalgic!". Perfect!