14 janvier 2010
4
14
/

01
/

janvier
/

2010
17:18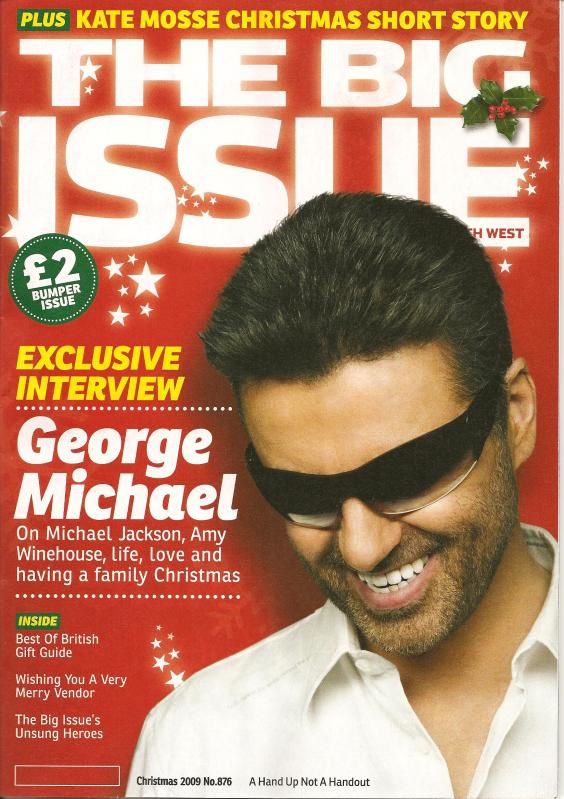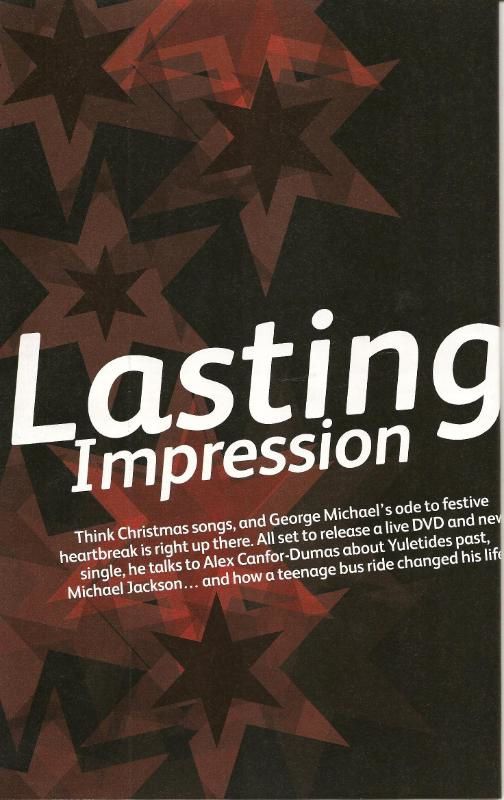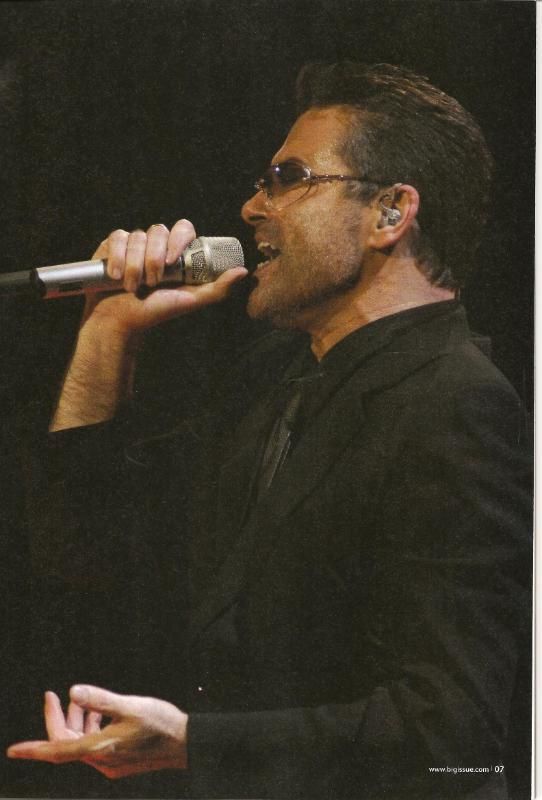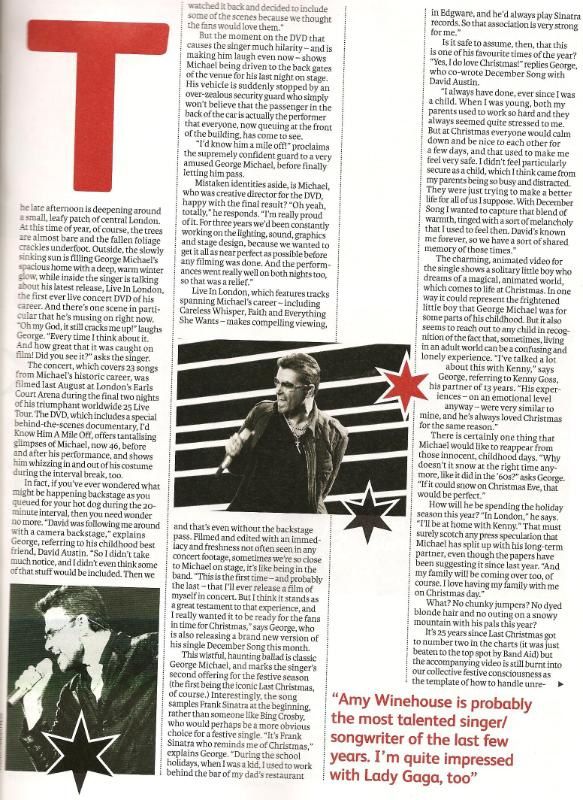 George Michael on Michael Jackson, Amy Winehouse , Life, Love and having a family Christmas.

The late afternoon is deepening around a small, leafy patch of central London.
At this time of year, of course, the trees are almost bare and the fallen foliage crackles underfoot.
Outside, the slowly sinking sun is filling George Michael's spacious home with a deep, warm winter glow,
while inside the singer is talking about his latest release, Live In London, the first ever live concert DVD of this career.
And there's one scene in particular that he's musing on right now. "Oh My God, it still cracks me up!" laughs George,
"Every time I think about it. And how great that it was caught on film! Did you see it?" asks the singer.
The concert, which covers 23 songs from Michaels' historic career, was filmed last August at London's Earls Court
Arena during the final two nights of his triumphant worldwide 25 Live Tour. The DVD, which includes a special
behind-the-scenes documentary, I'd Know Him A Mile Off, offers tantalising glimpses of Michael, Now 46,
before and after his performance, and show's him whizzing in and out of his costume during the interval break, too.

In fact, if you've ever wondered what might be happening backstage as you queued for your hot dog during the
20 minute interval, then you need wonder no more. "David was following me around with a camera backstage,"
explains George, referring to his childhood best friend, David Austin. "So I didn't take much notice, and I didn't
even think some of that stuff would be included. Then we watched it back and decided to include some of the
scenes because we thought the fans would love them."
But the moment on the DVD that causes the singer much hilarity - and is making him laugh even now -
shows Michael being driven to the back gates of the venue for his last night on stage.
His vehicle is suddenly stopped by and over-zealous security guard who simply won't believe that the passenger in the
back of the car is actually the performer that everyone, now queuing at the front of the building, has come to see.
"I'd know him a mile off!" proclaims the supremely confident guard to a very amused George Michael, before finally letting him pass.
Mistaken identities aside, is Michael, who was creative director for the DVD, happy with the final result? "Oh yeah, totally,"
he responds. "I'm really proud of it. For three years we'd been constantly working on the lighting, sound, graphics and stage design,
because we wanted to get all as near perfect as possible before any filming was done.
And the performances went really well on both nights too, so that was a relief"
Live in London, which features tracks spanning Michael's career - including Careless Whisper, Faith and Everything She Wants -
makes compelling viewing, and that's even wit Hough the backstage pass. Filmed and edited with an immediacy and freshness
not often seen in any concert footage, sometimes we're so close to Michael on stage, it's like being in the back. "This is the first time -
and probably the last - that I'll ever release a film of myself in concert. But I think it stands as a great testament to that experience,
and I really wanted it to be ready for the fans in time for Christmas, " says George, who is also releasing a brand new version of his
single December Song this month.
This wistful, haunting ballad is classic George Michael, and marks the singers second offering for the festive season
(the first being the iconic Last Christmas, of course.) Interestingly, the song samples Frank Sinatra at the beginning, rather than someone
like Bing Crosby , who would perhaps be a more obvious choice for a festive single. "It's Frank Sinatra who reminds me of Christmas,"
explains George. "During the school holidays, when I was a kid, I used to work behind the bar of my dad's restaurant in Edgware,
and he'd always play Sinatra records. So that association is very strong for me."
Is it safe to assume, then, that this is one of his favourite times of year? "Yes, I do love Christmas!" replies George, who co-wrote
December Song with David Austin.
"I always have done, ever since I was a child. When I was young, both my parents used to work so hard and they always seemed
quite stressed to me. But as Christmas everyone would calm down and be nice to each other for a few days, and that used to make
me feel very safe. I didn't feel particularly secure as a child, which I think came from my parents being so busy and distracted.
They were just trying to make a better life for all of us I suppose. With December Song I wanted to capture that blend of warmth,
tinged with a sort of melancholy that I used to feel then. David's known me forever, so we have a sort of shared memory of those times."
The charming, animated video for the single shows a solitary little boy who dreams of a magical, animated world, which comes to
life at Christmas. In one way it could represent the frightened little boy that George Michael was for some parts of his childhood.
But it also seems to reach out to any child in recognition of the fact that, sometimes, living in an adult world can be a confusing and
lonely experience. "I've talked a lot about this with Kenny," Says George, referring to Kenny Goss, his partner of 13 years.
"His experiences - on an emotional level anyway - were very similar to mine, and he's always loved Christmas for the same reason"
There is certainly one thing that Michael would like to reappear from those innocent, childhood days. "Why doesn't is snow at the right
time anymore, like it did in the '60s?" asks George. "If it could snow on Christmas Eve, that would be perfect."
How will he be spending the holiday season this year? "In London," he says. "I'll be at home with Kenny" That must surely scotch any
press speculation that Michael has split up with his long-term partner, even though the papers have been suggesting it since last year.
"And my family will be coming over too, of course. I love having my family with me on Christmas day."
What? No chunky jumper? No dyed blonde hair and no outing on a snowy mountain with his pals this year?
It's 25 years since Last Christmas got to number two in the charts (it was just beaten to the top spot by Band Aid) but the accompanying
video is still burnt into our collective festive consciousness as the template of how to hand unrequited love in front of a roaring log fire.
What does Michael think now, if he should ever catch some of his old videos on You Tube or somewhere? "I cringe mostly!" he laughs.
"Take that blonde hair," he say's, referring to his uber cut from the '80s. "I wanted to have long, blonde, straight hair because I didn't really
want to be me. So the short, dark, curly hair had to go. Looking back I suppose I could have done without those curtain rings in my ears as well.
And the shorts with the shuttlecocks down them too," He adds as an afterthought "I mean, how stupid did that look?
But then again, Andrew [Ridgeley] and I were just young guys having fun, and that's an age when you're still experimenting with your image,
so of course mistakes were made.
"To be honest, I don't think I was ever really confident about the way I looked in those days. But the one thing I did believe in was my talent
as a songwriter. Once I had my foot in the door of the music industry, nothing was going to shift me."
For Michael, there was one moment he says, when he knew he had arrived. "When I was 19, I wrote Freedom - The original version -
and I thought, 'I can't believe I've just done that' I was absolutely thrilled. Because until then I had no real understanding of my abilities
but with Freedom, I started to take myself seriously as a writer."
So where does that leave Careless Whisper, then? That anthem to doomed love. The song that George Michael doesn't even have to sing
at his own concerts anymore, because the audience does it for him?
"I'm still a bit puzzled about why it's made such an impression on people," he says. "Is it because so many people have cheated on their
partners? Is that why they connect with it?
"I have no idea, but it's ironic that this song - which has come to define me in some way - should have been written right at the beginning
of my career when I was still so young. I was only 17 and didn't really know much about anything - and certainly nothing much about relationships."
Ironic, indeed. That one song, written on the number 32 bus by the precociously talented teenager, as he made his way to a Watford cinema
where he was working as an usher, would later go on to reach Number One in more than 25 countries, and sell in excess of six million copies
around the world.
Michael says he's learnt a thing or two about the music business in the ensuing years, and thinks he now knows what it takes to maintain a
successful and enduring career in pop music. What counsel would he give, then, to any young musician setting out on a similar road to his
own? He doesn't hesitate.
"I'd advise anyone to understand that fame, and all the attention you'll receive, won't satisfy you for any length of time if you don't really
believe in what you're doing with regards to your music. And if you really do have talent, recognise that as a real privilege and hang on to it,
no matter what."
On the subject of talent, it can't have gone unnoticed by Michael that another towering genius of the pop world - Michael Jackson - died on the
British singer's birthday (June 25) this year. Did he find that poignant? "It was sad, and a bit surreal, too," says the star.
"Jackson's influence on the industry was massive and he made some incredible albums, especially in the '80s.
But I do feel there was some lost potential there. Maybe that level of celebrity simply puts a stop to any musical brilliance."

Right now, though, Michael has his eye on some new stars in the firmament, and two in particular have him turning up the volume on his radio.
"In my opinion, Amy Winehouse is probably the most talented singer/songwriter to have come out of Britain in the last few years.
And I'm quite impressed with Lady GaGa, too," he says. "She's a very original songwriter with quite a unique overall package."
Outside, the winter sun has disappeared and the surrounding streets seem very quiet indeed. "It's funny," says George, gazing out of the window,
"but I can't seem to get away from here - this five-mile radius where I was born. Maybe it's because I'm a Cancer.
We're supposed to be homely people, and I'm just like that. I feel very comfortable in this part of the world."
For all his touring, Michael is first and foremost a Londoner, and that makes him more aware of the social problems facing such a large
city, including homelessness. He supports more than one organisation that helps people on the streets, including this one,
The Big Issue, which has been a firm favourite of his for many years.
But home loving George will be cancelling the milk, packing his bags and double-locking his front door early next year, when he heads off for
a tour of Australia, somewhere he hasn't visited since his Wham days!. The tickets may have completely sold out already, but there's always
Live in London for any one not lucky enough to catch the shows down under.
Caught on film, right at the end of the concert, there's a moment - just before Michael leaves the stage - when he turns to his throng of adoring fans
and shouts: "Thank you for 25 amazing years!"
The immediate roar from the crowd suggest that - then, as now - the feeling is entirely mutual.
Live in London DVD, released through Sony music Entertainment, is out now. December Song is released on Island Records on December 14,
and also on download from the 13th.
---

Traduction des grandes lignes

A cette époque de l'année, bien sûr, les arbres sont presque nus et les feuillages tombés craquent sous les pieds.
Dehors, le soleil qui baisse lentement remplit la spacieuse maison de George Michael avec profondeur,
lueur chaude de l'hiver, tandis qu'à l'intérieur le chanteur parle de sa plus récente parution , Live In London,
le tout premier concert live en DVD de cette carrière. Et il y a une scène en particulier, qu'il médite en ce moment.
"Oh mon Dieu, c'est encore craquant !", plaisante George, " Chaque fois que j' y pense.
Et combien c'est énorme ce qui a été capturé sur pellicule ! " l'avez-vous vu ? ", demande le chanteur.
Le concert, qui comporte 23 chansons de la carrière historique de Michael, a été filmé
en août dernier au Earls Court Arena de Londres pendant les deux dernières soirées de son triomphe dans le monde entier
pour sa tournée 25 Live. Le DVD, qui inclut un documentaire spécial derrière la scène,
offre un aperçu alléchant de Michael, à présent 46 ans , avant et après sa performance,
et le montre sifflant, dans et hors de son costume pendant l' intervalle de la pause.
En fait, si vous vous êtes déjà demandé ce qui pourrait se passer dans les coulisses
pendant l'intervalle de 20 minutes, à ce moment là vous ne saurez pas plus étonné.

"David me suivait partout dans les coulisses avec un appareil photo " explique George, se référant à son meilleur
ami d'enfance, David Austin. Donc je n'ai pas fait très attention, et je ne pensais même pas que certaines de ces
choses seraient incluses.
Puis nous l'avons regardé à fond et avons décidé d'inclure quelques-unes des scènes parce que nous avons pensé
que les fans les aimeraient "
Le moment qui a fait le plus rire George et qui lui cause encore des crises de fou rire, c'est quand le gardien à l'entrée de Wembley,
pour sa dernière soirée sur scène, a fait stopper son véhicule, leur refusant le passage, ne voulant pas croire tout simplement
que le passager à l'arrière de la voiture était réellement le chanteur.
" Je le connais !" proclame le garde de George Michael très amusé, avant finalement de le laisser passer.
Michael qui est le directeur de la création du DVD est très satisfait du résultat final.
" J'en suis vraiment fier, pendant trois ans nous avions travaillé constamment sur l'éclairage, le son, le graphisme et la conception
de la mise en scène, parce que nous voulions que tout soit aussi proche que possible de la perfection
avant que chaque tournage soit effectué. Et les performances ont été vraiment bien sur les deux soirées aussi,
ça donc été un soulagement "
Live In London qui contient des chansons de la carrière de George, y compris Careless Whisper, Faith et Everything She Wants,
rend la visualisation convaincante et c'est encore l'esprit ' Hough ' de la situation des coulisses.
Filmé et édité avec immédiateté et fraîcheur, pas souvent vu dans quelconque séance du concert,
nous sommes parfois si près de Michael sur scène, c'est comme être derrière.

" C'est la première fois - et probablement la dernière - que je libère un film de moi-même en concert.
Mais je pense qu'il se représente comme un testament important de cette expérience, et je voulais
vraiment qu'il soit prêt à temps à Noël pour les fans " déclare George, qui réalise également une
nouvelle version de sa chanson December Song, ce mois .

C'est nostalgique, une ballade hantée de George Michael et les résultats que le chanteur offre en second
pour la saison des fêtes ( le premier, bien sûr, étant l'emblématique Last Christmas .)
Fait intéressant, les échantillons de la chanson de Frank Sinatra au début, plutôt que quelqu'un comme Bing Crosby,
qui est peut-être un choix plus évident pour un single de fête.
" C'est Frank Sinatra, qui me rappelle Noël " explique George. "Pendant les vacances scolaires, quand j'étais un enfant,
j'avais l'habitude de travailler derrière le bar du restaurant de mon père dans Edgware, et il mettait toujours des disques de Sinatra,
cette association est donc très forte pour moi. "


Est-il certain de supposer, donc, que c'est l'un de ses moments préférés de l'année?

" Oui, j'adore Noël ! ", répond Georges, qui a co-écrit December Song avec David Austin.
"Je l'ai toujours fait, depuis que je suis un enfant. Quand j'étais jeune, mes parents travaillaient si
dur et ils semblaient toujours assez stressés. Mais à Noël tout semblait plus calme et tout le monde était très gentil
avec les autres pendant quelques jours et ça me donnait un sentiment de sécurité.
Je ne me sentais pas protégé particulièrement comme un enfant, je pense que ça venait de mes parents qui étaient très
occupés et déconcentrés.
Ils essayaient simplement de nous faire une vie meilleure je suppose. Avec Décembre Song je voulais capturer cette atmosphère
de chaleur teintée de mélancolie que je ressentais à l'époque. David me connait depuis toujours, nous avons donc une espèce
de mémoire partagée de cette époque ."
La vidéo animée montre un petit garçon solitaire qui rêve de magique, d'un monde animé qui arrive à la vie, à Noël .
En un sens, elle pourrait représenter le petit garçon effrayé que George Michael était dans certaines parties
de son enfance.
Mais il semble aussi tendre la main à n'importe quel enfant en reconnaissance avec le fait que parfois, vivant
dans un monde d'adultes peut-être une expérience confuse et solitaire.

" J'ai beaucoup parlé de tout ça avec Kenny", dit George, se référant à Kenny Goss, son partenaire de 13 ans
Ses expériences, sur le plan émotionnel, étaient très proches des miennes et il aime Noël pour les
mêmes raisons. "

" Pour les fêtes de Noël je serais à Londres avec Kenny . Ma famille viendra aussi bien sûr. J'adore avoir ma
famille avec moi le jour de noël . "

Qu'est-ce que Michael pense à présent ? si jamais il devrait réupérer certaines de ses anciennes vidéos
sur Youtube ou autre part ?
" Je recule pour la plupart " dit-il en riant

" Prenez cette chevelure blonde " dit-il se référant à sa coupe ' uber ' des années 80.
" Je voulais depuis longtemps des cheveux blonds parce que je n'avais pas vraiment envie d'être moi.
Donc courts, foncés, les cheveux bouclés devaient faire. Avec le recul je suppose que j'aurais été
aussi bien sans ces anneaux de rideaux à mes oreilles. Et aussi les shorts " ajoute t-il après coup.
" Je veux dire , comment ne pas être stupide ainsi ? Mais là encore Andrew et moi étions juste de jeunes
gars s'amusant, et c'est un âge où vous êtes encore à expérimenter avec votre image, donc bien sûr des erreurs
ont été faites.
Pour être honnête, je ne pense pas que je n'ai été jamais vraiment confiant sur la façon que je regardais
à cette époque. Mais la seule chose que je ne croyais pas était dans mon talent d'auteur-compositeur.
Une fois que j'ai eu le pied à la porte de l'industrie de la musique, rien n'allait me changer. "

Il y a eu un moment dit George, qu'il savait alors qu'il y était arrivé.
" Quand j'avais 19 ans, j'ai écrit la version originale de Freedom, et j'ai pensé, je ne peux pas croire que je viens
de faire ça , j'étais absolument ravi, parce que jusque là je n'avais pas de connaissance réelle de mes capacités,
mais avec Freedom, j'ai commencé à me prendre au sérieux en tant qu'écrivain. "

...

" Je conseille à quiconque de comprendre que cette gloire et toute l'attention que vous recevez, ne vous
satisfera pas sur la durée si vous ne croyez pas vraiment en ce que vous faîtes en ce qui concerne votre musique.
Et si vous avez vraiment du talent, le reconnaître comme un véritable privilège et s 'y accrocher, quoi qu'il arrive. "

Sur la question du talent, il ne peut pas être passé inaperçu par George, d''un autre géni du monde de la pop,
mort le jour de son anniversaire.

" C'était triste et aussi un peu surréaliste . L'influence de Jackson sur l'industrie musicale a été énorme et il a fait des
albums incroyables, surtout dans les années 80.
Mais j'ai ressenti qu'il avait eu une perte de potentiel . Peut-être que ce niveau de célébrité met un terme à tout génie musical.

A l'heure actuelle, Michael a les yeux sur certaines nouvelles stars et deux en particulier, lui ont fait augmenter
le volume de sa radio.
" A mon avis, Amy Winehouse est probablement la plus talentueuse auteur-compositeur-interpète qu'il y ait eu en Grande Bretagne
au cours de ces dernières années.
Je suis assez impressionnée par Lady Gaga, elle est un auteur-compositeur original, assez unique dans l'ensemble "

Dehors, le soleil d'hiver a disparu et les rues environnantes semblent effectivement très calmes

" C'est drôle " dit George, regardant par la fenêtre, mais je n'arrive pas à sortir d'ici - ce rayon où je suis né.
Peut-être que c'est parce que je suis un cancer. Nous sommes censés être des gens chaleureux, et je suis comme ça.
Je me sens très à l'aise dans cette partie du monde. "

Pour toutes ses tournées, Michael est premièrement et avant tout un Londonien, et ce qui le rend le plus conscient
des problèmes sociaux auxquels fait face une grande ville y compris l'itinérance.
Il soutient plus d'une organisation qui aide les gens dans les rues, dont celle-ci , The Big Issue, qui a été
une de ses favorites pendant de nombreuses années.