14 janvier 2010
4
14
/

01
/

janvier
/

2010
16:31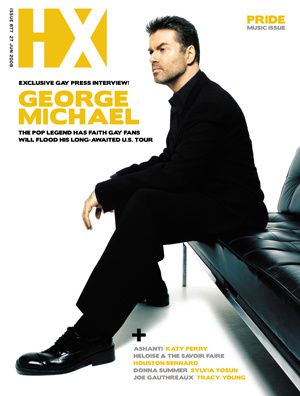 HX: Have you altered your tour for North American audiences?


George Michael: I'm making adjustments. There are a few more tracks from Faith, but other than that, not really. I've got to play to the fans that have been buying my stuff that hasn't been on the radio for the past 15 years. In other words, I've got to not play down to anybody. Ultimately, there's enough old stuff in there for people who don't know the newer stuff, so they'll be alright.



Is there any song you've officially retired?

Not really, but there are only a couple of Wham! songs I can get away with—"Everything She Wants" and "I'm Your Man." Other than that, there's nothing that I have a real objection to.



Are you trying to please gay fans in particular with this tour?

There is such a large part of that audience that's stuck with me in America. In America I think there will be a lot of gay people in the audiences—I really think it will be 50/50. In Europe the front rows were just full of these gorgeous gay men, but when we got back to England, they were few and far between. Funnily enough, the more right-wing or Catholic the country, the more gay people were at the concerts; in places where gay people are still more oppressed, they will absolutely support a gay artist. In England, they don't feel the need to identify. I constantly chip away at my female audience by insisting on writing about my life—though you'd never know it when you go to the shows because they're all screaming their heads off. But I've literally paid a price just for being unapologetic, and I thought that was very important politically.



Did you feel a special connection with gay fans even before you came out in 1998? Surely you must've known it wasn't just girls eyeing your butt in the Faith days.

Oh God, yeah, I knew that. With all those number one club records and stuff, I really have had a great amount of support from the gay community in America in the last 15 years, so absolutely that's special. I actually write about my real experience now, and I think that's one of the things that makes it easier for gay people to listen to.


Did you get any positive feedback from a gay fan that made coming out professionally worth the drama?

Quite a few people have written to me over the years on that basis. From the moment I outed myself, when I wrote "Outside," immediately I thought, Wouldn't it be great to make a video for all those kids that are now where you were 25 years ago, with your only experience being cruising—and feeling terrible about it because you're 16 or whatever? If someone had made a video like that for my entertainment when I was a young guy, I would've loved it.


If I were looking for "fastlove" outside, what would be your best advice?

Well, if you're American I'd say don't bother. You're too likely to get arrested.


Can a gay artist succeed if he's out from the beginning?

It's happening in Europe—Will Young was out from day one and it didn't hurt him at all—but it's still very tricky in America, where you're so categorized as soon as people realize you're gay.

Would you advise a closeted performer in America to stay in the closet?

Absolutely not. There is no career that's worth that. I'd just say, "Come out and accept that you'll lose some of your audience."

You recorded a great cover album, Songs from the Last Century, in 1999. Is there any artist you'd like to hear do a George Michael cover?

Maybe Amy Winehouse, although I think maybe my stuff is a bit straightforward for her.

How did you feel about Carrie Underwood's cover of "Praying For Time" on American Idol's Idol Gives Back?

I thought it was very flattering. She really sung her heart out, didn't she? I'm going to find some opportunity to thank her. That's probably why they invited me on to the American Idol finale.

Do you wish more Idol contestants sung George Michael songs?

Well, normally Simon Cowell tells them, "You just don't touch a George Michael song," which I thought was quite complimentary.

Earlier this year you made your American acting debut on Eli Stone. On which other American show would you like to appear?

I prefer watching TV. I don't think I'd like a career in it. It was just a remarkable thing because they wanted to name all of the episodes after my songs and write me into the actual storyline, but the music was the main reason I did it. People think because I did Extras and Eli Stone that maybe I'm trying to make a foray into acting, but I'm not.

Are you really holding dinner parties with old friends to help jog your memory in preparation for writing your upcoming autobiography?

No. Nothing you read about me is true. If there isn't a picture of me and if I haven't been arrested, it's not true. They write so much crap about me, I'm a fictional character as far as I'm concerned. Apparently I asked the artist Banksy to paint the side of my house for 2.5 million quid.

I believed that one.

You shouldn't have believed that. What am I going to do—sell the wall to my house?



The British tabloids also love to follow your friendship with Geri Halliwell. Are you guys okay?

I swear to God, I don't read them, so if nobody actually tells me what this week's rubbish is, I don't know. So what's supposed to have happened now? I know they got pictures of us when we went to dinner recently.


Yes, so it was assumed that you had made up after your alleged falling out over your not writing the Spice Girls comeback single.

No, no, no. What it was is that I offered them the track, but didn't get it finished in time. But they weren't upset. I think Geri only half-expected me to finish it anyway—she knows what I'm like. They have us falling out all the time, but we never do.


How do you maintain such a good sense of humor about your mishaps?

Well, with the stuff that I get up to, if I didn't have a sense of humor I'd really be up shit creek, as they say. I can always see the funny side, especially if it's about sex.

So who looked better while performing community service—you or Naomi Campbell?

She turned it out—absolutely! Good for her. I think I should've done a bit of shopping, shouldn't I?
---


Avez-vous modifié votre tournée pour le public d'Amérique du Nord ?


J'ai fait des ajustements. Il y a un peu plus de chansons de ' Faith ' , mais autrement pas vraiment.
Je vais jouer pour les fans qui ont acheté mes disques qui ne passaient pas à la radio depuis quinze ans.
En d'autres termes, je ne dois pas minimiser pour personne.
Finalement, il y a assez de trucs anciens dedans pour les personnes qui ne connaissent pas les nouvelles
chansons, donc ça sera bien.


Il y a t-il des chanson que vous avez mis en retrait officiellement ?


Pas vraiment, mais il y seulement deux chansons de Wham! dont je ne peux me passer.
"Everything She Wants" et "I'm Your Man." Pour les autres ( chansons ) il n'y a en pas pour lesquelles je fais
une réelle objection.


Essayez-vous de faire plaisir à vos fans gays, en particulier avec cette tournée ?




Il y a une grande partie de ce public qui m'a suivi en Amérique.
En Amérique je pense qu'il y aura beaucoup de gays dans le public.
Je pense vraiment qu'ils seront à 50/50 .
En Europe les premiers rangs étaient remplis de ces magnifiques hommes gays, mais quand nous sommes
revenus en Angleterre, ils étaient rares devant.
Bizarrement, plus le pays est de droite ou catholique, plus les personnes gays viennent aux concerts;
Dans les endroits où les gays sont le plus opprimés, ils soutiennent absolument un artiste gay.
En Angleterre, ils ne ressentent pas le besoin de s'identifier.
J'interviens constamment pour mon public féminin en insistant sur ce que j'écris sur ma vie,
vous ne pouvez pas vous en rendre compte quand vous allez aux concerts, parce qu'elles
sont toutes en train de hurler à en perdre la tête.
Mais j'ai littéralement payé le prix pour avoir été impardonnable


Avez-vous ressenti un lien spécial avec les fans gays avant de faire votre coming out en 1998 ?
Vous saviez certainement qu'il n'y avait pas que les filles qui regardaient vos fesses
à l'époque de Faith.



Oh dieu, ouais, je savais ça. Avec tous ces albums numéro un dans les club et autres, j'ai eu
vraiment un grand nombre qui m'ont soutenu dans la communauté gay, en Amérique ces quinze
dernières années, c'était absolument si spécial.
J 'écris actuellement au sujet de ma véritable expérience, et je pense que c'est une des choses qui font que
c'est plus facile à écouter, pour les personnes gays .



Avez-vous eu des réactions positives de fans gays qui aient fait un coming out professionnellement ?



Pas mal de personnes m'ont écrit au fil des ans à ce sujet .
À partir du moment quand j'ai fait mon coming out, quand j'ai écrit "Outside", j'ai pensé immédiatement, ne serait-il pas
super de faire une vidéo pour tous ces gosses qui sont à présent là où vous étiez il ya 25 ans,
avec votre seule expérience de recherche sexuelle et se sentant atrocement coupable à ce sujet, parce que vous avez
16 ans et le reste.. ?
Si quelqu'un avait fait une vidéo comme ça pour mon spectacle quand j'étais un jeune homme, je l'aurai aimé.



Si je cherchais de l'amour facile à l'extérieur , quel serait votre meilleur conseil ?


Et bien si vous êtes Américain je dirai pas la peine. Vous seriez arrêté.


Un artise gay peut-il avoir du succès s'il le déclare
(être gay ) à ses débuts ?


Ca c'est passé en Europe. Will Young l'était dès le premier jour et ça ne l'a pas blessé,
mais c'est encore très diffcile en Amérique où vous êtes catalogués,
où que vous soyez les gens se rendent compte que vous êtes gay.


Conseilleriez-vous une carrière plus fermée et discrète en Amérique ?


Absolument pas. Il n'y a pas de carrière qui en vaille la peine.
Je dirai juste " Dites le et acceptez de perdre une partie de votre public "


Vous avez enregistré un grand album de reprises " Songs from the Last Century " en 1999.
Il y a t-il un artiste que vous aimeriez entendre avec une chanson de George Michael ?


Peut-être Amy Winehouse, même si je pense que ma musique est un peu directe pour elle.


Que pensez-vous de la reprise de Carrie Underwood de "Praying For Time" à la finale de American Idol



Je pense que c'était très flatteur. Elle a vraiment chanté avec son coeur, n'est-ce pas ?
Je trouverais une occasion pour la remercier. C'est problabement pour ça qu'ils m'ont invité à la
finale de American Idol.


Auriez-vous aimé que plus de candidats chantent des chansons de George Michael ?



Et bien, normalement Simon Cowell leur a dit " Vous ne touchez pas à une chanson de George Michael ",
ce que j'ai pris comme un compliment.



Plus tôt cette année, vous avez fait vos débuts d'acteur dans Eli Stone. Dans quelle autre série américaine aimeriez vous apparaître ?


Je préfère regarder la TV. Je ne pense pas que j'aimerai en faire une carrière.
C'était juste une chose remarquable parce qu'ils ont nommé tous les épisodes par mes
chansons et m' ont écrit une réelle histoire , mais la musique était la raison principale ce pourquoi je l'ai fait.
Les gens pensent parce que j'ai fait Extras et Eli Stone que j'essaierais peu-être d'être acteur , mais non je ne le serais pas.



Avez-vous vraiment dîné avec de vieux amis pour vous rafraichir la mémoire en préparation pour écrire votre autobiographie ?



Non. Rien de ce que vous lisez à mon sujet est vrai. Si il n'y a pas une photo de moi et si je n'ai pas été arrêté, ce n'est pas vrai.
Ils écrivent beaucoup de merde à mon sujet, je suis un personnage fictif aussi loin que je sois concerné.
Apparemment j'ai demandé à l'artiste Banksy de peindre le côté de ma maison pour 2.5 million.


Je crois ça.


Vous ne pouvez pas croire ça. Que vais-je faire, vendre le mur de ma maison ?


Les tabloïdes Britanniques aiment aussi suivre votre amitié avec Geri Halliwell. Etes-vous ok ?



Je jure devant Dieu, je ne les lis pas, si effectivement personne ne me
dit que cette semaine
il y a eu une cochonnerie , je ne sais pas. Est-ce que c'est supposé avoir eu lieu ?
Je sais qu'il y a des photos de nous quand nous sommes allés dîner récemment.



Oui, donc c'était supposé que vous avez inventé, après votre brouille présumée pour ne pas écrire un single
pour le retour des Spice Girls .


Non, non, non . C'était que je leur offre le morceau, mais qui n'a pas été terminé à temps.
Mais elles n'ont pas été vexées.
Je pense que Geri s'attendait à moitié que je finisses, qu'importe elle sait comment je suis.
Ils nous tombent tout le temps dessus, mais jamais nous ne faisons.


Comment faites-vous pour préserver un tel bon sens d' humour au sujet de vos incidents ?


Et bien avec les affaires que j'ai fait, si je n'avais pas un sens de l'humour, en réalité je serais dans
( la merde ) le pétrin , comme on dit.
Je peux toujours voir le côté drôle, surtout au sujet du sexe.


Qui a été le mieux regardé au moment d'avoir accompli le travail d'intérêt général, vous ou Naomi Campbell ?


Elle l'a fermée, absolument ! c'est bien pour elle. Je pense que j'aurai fait un peu de shopping, n'est pas ?