18 août 2011
4
18
/

08
/

août
/

2011
10:18
If there's one term you could use to sum up George Michael at this stage in his career, it might be '30 and not out' - to borrow from and paraphrase a rather familiar term in cricket scoring. Because this world-famous singer/songwriter, acclaimed international artist and celebrated global icon is still, after 30 years, as popular as he was when he first burst onto the music scene in the early '80s as one half of super duo Wham! Probably more so, in fact. This weekend sees his European orchestral tour, Symphonica, which comes to Dublin in November, start in Praque. He talks to Alex Canfor-Dumas about the inspiration for the tour and his current projects.
Q: What was the inspiration behind this orchestral tour?
A: I was actually inspired when I heard that Tony Bennett had done a tour like that. I've always wanted to sing with this sort of backing so that I can really, really use my voice. There are two elements in my music that I want to explore further. One being the use of my voice and the other is dance music. I think my fans would like to both these things too.
Q: What sort of covers can we expect on this tour?
A: I think people will be quite surprised because I'll be doing a lot of songs that I haven't sung live before. Some will be the sort of compositions that only really lend themselves to the sort of intimate venues that I'll be playing in, and some will be from artists who have influenced me over the years. And of course I'll be doing a few numbers from my 'Songs of The Last Century' album. I've found some really nice ways to cover these beautiful songs, so I don't think my fans will be disappointed at all. Far from it, I hope.
Q: Of all the people you've sung duets with, who are your favourite?
A: It would be hard to single anyone out, because so many were really amazing. But I'd have to admit that my duet with Aretha Franklin was a dream come true. I was only 24, and she'd actually asked me to write and produce for her a few years before that. I bottled out though, it just seemed too scary at 21!
Q: Could you tell us some more about the Dance Album that you're working on at the moment?
A: I love the fact that house and dance music - which have basically been the staple of the gay community since they emerged - has now been brought into the mainstream by people like Lady Gaga and Rhianna. It makes for some really exciting pop music. For this album I'm going to be working with either gay or gay friendly artists, and it'll be a mixture of tracks sung by me and others by young gay artists - possibly unknown ones. And I've lined up some really great dance producers to work on it too, so it'll be a pretty stunning record, I hope. I know I'll be 48 when the album comes out, but I have to say that gay men's relationship with dance music probably doesn't end at the same time as straight people's does!
Q: Can you tell us what sort of backstage/dressing room riders you'll be stipulating for the Symphonica tour? It looks like it's going to be quite an illustrious event.
A: Oh my God, if it was boring before… Actually all I tend to have is stuff that my friends and family can wonder in and eat backstage if they're bored. That's it really. Oh, and I quite like flowers in my dressing room, but I don't stipulate any particular kind. So I have quite a cheap rider really.
Q: Have you been surprised at the way your fans have stuck by you over the last 12 months?
A: No, not really. I've always known that I have incredibly loyal and amazing fans, and they've never let me down. But I was pretty overwhelmed by the love and support they've shown me in the last 12 months. I've always felt that there's something very special about my audience. When I perform, I can sort of feel from their energy that they're very kind people.
Q: Did you ever imagine that the boy from a small town just outside London would one day be appearing at The Royal Opera House?
A: Funnily enough, the very first show that I ever played as a teenager with Wham! was in a small cut-scout hut, just up the road from my school. The audience was mostly made up of my family and friends, but it went incredibly well. And that's one thing that's always stayed with me throughout my career: I've never the left the stage feeling disappointed with either my performance or the audience's reaction. But coming back to your question - no, I really never imagined I'd be here today in a place like this. I mean, if anyone does dream of a 30-year career that takes them to the Royal Opera House and the likes, well, they'd most likely be disappointed, wouldn't they? When I was young and just starting out, my idea of success was appearing on 'Top of the Pops'. As far as I was concerned, that was the be all and end all. Of course, I made it onto Top of the Pops with Wham! and I just couldn't believe how small the studio was!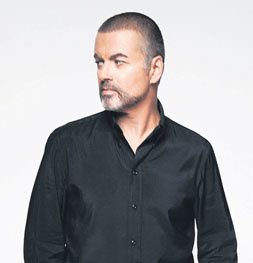 George Michael will be in Dublin on 1st and 3rd November, on his 'Symphonica' tour which begins in Praque on 22nd August.