14 janvier 2010
4
14
/

01
/

janvier
/

2010
16:46

It's been nearly two decades since Dallas resident George Michael last toured North America. What took him so long? A sit-down with the pop icon before his North Texas appearance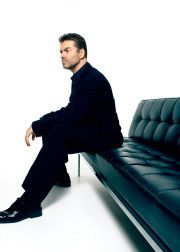 FATHER FIGURE: George Michael's career has progressed from bubblegum pop to Grammy glory. The gay Brit — and partner of Dallas gallery owner Kenny Goss — plays American Airlines Center on Sunday.
Twenty-five years ago, when he was still the frontman for the bubble gum pop group Wham!, George Michael's blue-eyed soul captured the hearts and ears of millions. Shortly after the success of the band with partner Andrew Ridgeley, Michael decided to fly solo.

He had a string of successes, including his 1986 monster hit "I Knew You Were Waiting For Me," a duet with Aretha Franklin — the first white male vocalist ever to record with the legend. His 1987 version of "Don't Let The Sun Go Down On Me," a duet with Elton John, also topped the charts around the globe and further cemented Michael as a star to be reckoned with.

But it was his 1988 album "Faith," turning out six No. 1 singles — including "Father Figure," "I Want Your Sex," "Kissing A Fool," and the title cut — that won him the album of the year at the Grammy Awards and made George Michael a bona fide superstar.

Fast-forward to the present. After spending most of the last decade in semi-retirement, over the past year Michael has gone back out on the road, touring in Europe for more than 1.5 million fans. Following the great success across the pond, he wondered how America would respond to his latest tour.
Dallas is about to find out.

Question: Why are you going on tour for the first time in 17 years? '

George Michael: I don't think I'm saying anything other than "thank you" really to people. I sat in my front room one day about a year and a half ago and thought, "You know, apart from the fact that you probably wish you had done it while you could still stand without help, there is going to be a day you regret not having done this thing you're so afraid of, which is repeating the experience of the '80s, of going out on tour and living in the eye of the storm." Those people that I'm going to play for know exactly why it's been a 25-year career, they know exactly why I'm going to sing to them and they know exactly why they're coming to see me.

Q: Can you describe your musical arch over the last 25 years?

I think, funnily enough, one of the great successes of my career musically is that its intent hasn't really changed very much. I have the same intent now that I had when I started. The difficulty, artistically, is in learning your craft and learning about life and changing as a person and yet holding on to the basic elements of what made you and gave you your appeal in the first place.

Q. Do you need the live feedback from an audience or is it enough for you to record in a studio?

As a musician, you need people to tell you. You need people to respond to what you're doing and know that they like it. So I need an audience, absolutely yes!

I think I've probably needed to perform a lot more than I've wanted to admit. I haven't performed for many, many years and I think it's something I've not done through fear and it's a shame because all fear does is waste time. I'm delighted I've decided to do it again because it's gone so well and makes me realize I should've done it a long time ago. But you can only do what you're capable of at the time. I mean, I think it's a way better show than I've ever performed before.

Q. Is there any song you've officially retired?

Not really, but there are only a couple of Wham! songs I can't get away with: "Everything She Wants" and "I'm Your Man." Other than that, there's nothing that I have a real objection to.

Q. How did you feel about Carrie Underwood's cover of "Praying For Time" on "American Idol Gives Back?" I thought it was very flattering. She really sung her heart out, didn't she? I'm going to find some opportunity to thank her. That's probably why they invited me on to the "American Idol" finale.

Q. Do you wish more "Idol" contestants would sing your songs?

Well, normally Simon Cowell tells them, "You just don't touch a George Michael song," which I thought was quite complimentary.

Q. Earlier this year you made your American acting debut on "Eli Stone." How did that happen?

[Series creator] Greg [Berlanti] wrote the initial draft, the idea for the series, and I was included in that. Apparently, the studio didn't think that I would say yes, so they wrote it again and I think they went for Phil Collins or somebody else. But they didn't realize I'm a telly addict, so I love American TV drama. So I said yes the minute I heard, and I wanted to know what the concept was. Of course, when they told me they wanted to name every episode after a song of mine it was very flattering to the ego. I prefer watching TV. I don't think I'd like a career in it. It was just a remarkable thing because they wanted to name all of the episodes after my songs and write me into the actual storyline, but the music was the main reason I did it. People think because I did "Extras" and "Eli Stone" that maybe I'm trying to make a foray into acting, but I'm not.

Q. Did you feel a special connection with gay fans even before you came out in 1998?

Surely you must've known it wasn't just girls eyeing your ass in the "Faith" days. Oh God, yeah, I knew that. With all those No. 1 club records and stuff, I really have had a great amount of support from the gay community in America in the last 15 years. So absolutely that's special. I actually write about my real experience now, and I think that's one of the things that makes it easier for gay people to listen to.

Q. Can a gay artist succeed if he's out from the start?

It's happening in Europe — Will Young was out from day one and it didn't hurt him at all — but it's still very tricky in America where you're so categorized as soon as people realize you're gay.

Q. Would you advise a closeted performer in America to stay in the closet?

Absolutely not. There is no career that's worth that. I'd just say, "Come out and accept that you'll lose some of your audience."

Q. Did you get any positive feedback from gay fans that made coming out professionally worth the drama?

Quite a few people have written to me over the years on that basis. From the moment I outed myself, when I wrote "Outside," immediately I thought, "Wouldn't it be great to make a video for all those kids that are now where you were 25 years ago, with your only experience being cruising — and feeling terrible about it because you're 16 or whatever?" If someone had made a video like that for my entertainment when I was a young guy, I would've loved it.

Q. How do you maintain such a good sense of humor about your mishaps?

Well, with the stuff that I get up to, if I didn't have a sense of humor I'd really be up shit creek, as they say. I can always see the funny side, especially if it's about sex.