12 juin 2010
6
12
/

06
/

juin
/

2010
16:33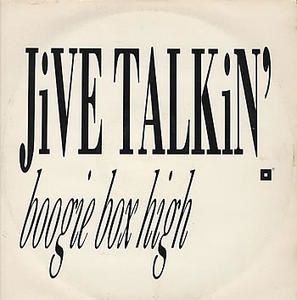 Written by B. R. & M. Gibb.

Original performed by Bee Gees, lyrics taken from their 1975 album "Main Course", an US No.1 & UK No.5 hit single release, also used for the 1977 "Saturday Night's Fever"-musical/movie.
Single release by Boogie Box High, the group of Andreas Georgiou incl. George Michael, 1987.
It's just your jive talkin' you're telling mi lies, yeah
Jive talkin' you wear a disguise
Jive talkin' so misunderstood, yeah
Jive talkin' you really no good

Oh, my child
You'll never know
Just what you mean to me
Oh, my child
You got so much
You're gonna take away my energy

With all your jive talkin'
You're telling me lies, yeah
Good lovin'
Still gets in my eyes
Nobody believes what you say
It's just your jive talkin'
That gets in the way

Oh my love
You're so good
Treating me so cruel
There you go
With your fancy lies
Leavin' me lookin'
Like a dumbstruck fool
With all your

Jive talkin' you're telling mi lies, yeah
Jive talkin' you wear a disguise
Jive talkin' so misunderstood, yeah
Jive talkin' you just ain't no good
Love talkin' is all very fine, yeah
Jive talkin' just isn't a crime
And if there's somebody
You'll love till you die
Then all that jive talkin' just gets in your eye

Jive talkin' you're telling mi lies, yeah
Good lovin' still gets in my eyes
Nobody believes what you say
It's just your jive talkin'
That gets in the way
Love talkin' is all very fine, yeah
Jive talkin', just isn't a crime
And if there's somebody
You'll love till you die
Then all that jive talkin'
Just gets in your eye, Jive talkin'